Mhamid, MARROCOS
---
Num artigo passado, sugeri ser mais eficaz deixarmos fluir naturalmente os estados mentais, do que tentar controlar o mundo exterior na esperança de garantir o que queremos sentir.
"Como é que isso se põe em prática?" é uma pergunta tentadora, mas remete para uma idêntica armadilha: fazer algo para controlar o "não-controlar". Realmente, aceder a uma melhor fluidez emocional não resulta bem de uma prática. É mais uma consequência natural de perspetivarmos aspetos do funcionamento da experiência humana.
Imagine os seguinte dois personagens a habitar a sua mente.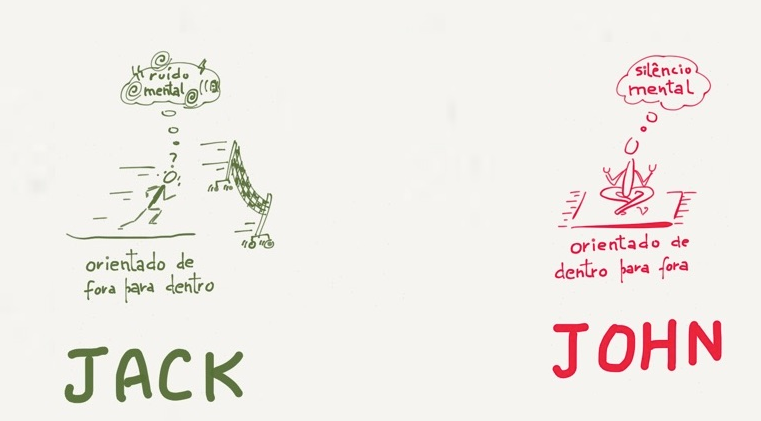 JACK: extremamente ativo, controlador, diálogo interno intenso, em permanente esforço para atingir objetivos sucessivos, numa promessa de futuro perfeito. Capaz de notável planeamento e capacidade de concretização, vive em luta por metas exteriores, nunca obtendo bem o resultado "suposto".
JOHN: tipo calado e tranquilo, homem da aceitação e do bem. A sua paz interior pouco depende do mundo exterior. Vive em permanente disponibilidade mental para sintonizar e desfrutar do que o rodeia. Cada instante é intenso.
Numa tentativa de ilustrar o mundo de JACK, saiu isto: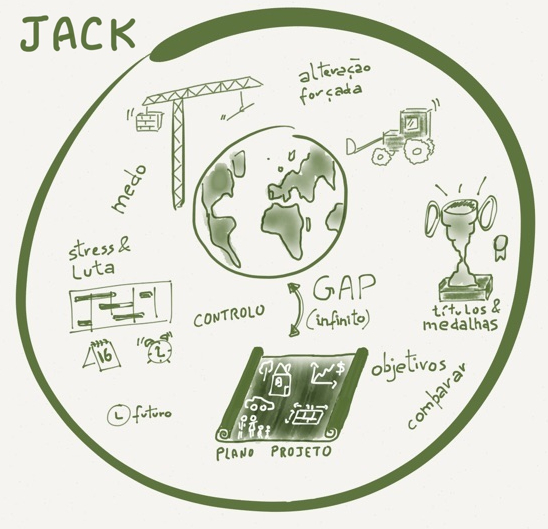 Muito planeamento, muita previsão, muita construção e alteração do mundo, na tentativa de cumprir com um dado plano de projeto. É um mundo cheio de comparação e avaliação "sou suficiente?". O GAP que tenta colmatar é, no entanto, infinito. JACK segue instruções que construiu ao longo da vida, e desde muito cedo, do que é "suposto" ser. Na juventude o jogo era acertar no que era "suposto" vestir, dizer, beber e fumar, até mais tarde ser o curso, o emprego, ou a fórmula casa+carro+família "supostos". JACK existe totalmente virado para as promessas bem intencionadas que pais, professores, amigos, filmes e anúncios de televisão lhe "venderam": SE CIRCUNSTÂNCIA X, ENTÃO SENTIMENTO Y. Qual afogado a lutar pela sobrevivência, não olha a meios para se manter à tona. E no meio de toda a sua certeza de saber que objetivos atingir para uma existência feliz, à força se preciso for, não se apercebe de uma cegueira fundamental: JACK não nos conhece por dentro!
Quanto ao mundo de JOHN, a coisa é mais simples: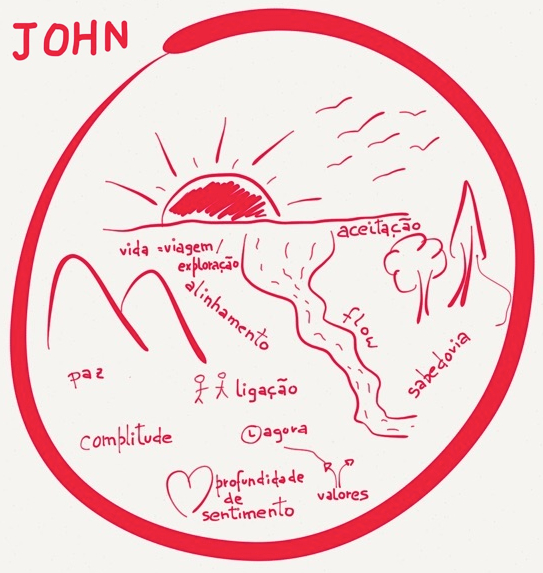 Para JOHN, a vida é uma viagem de descoberta e exploração, essencialmente pacífica, embora com momentos de dor. JOHN conhece-nos intrinsecamente, procurando alinhamento com os valores mais fundamentais. Isso dá-lhe uma sabedoria incrivelmente certeira. Porém, sendo um homem de grande aceitação, JOHN raramente se impõe nas discussões que JACK sempre ganha por violência ou simples saturação: "Tudo bem, JACK, é como achares melhor..."
Nesta última ilustração, tento representar a origem da nossa experiência: um radar dividido entre as "vibrações" dos mundos JACK e JOHN.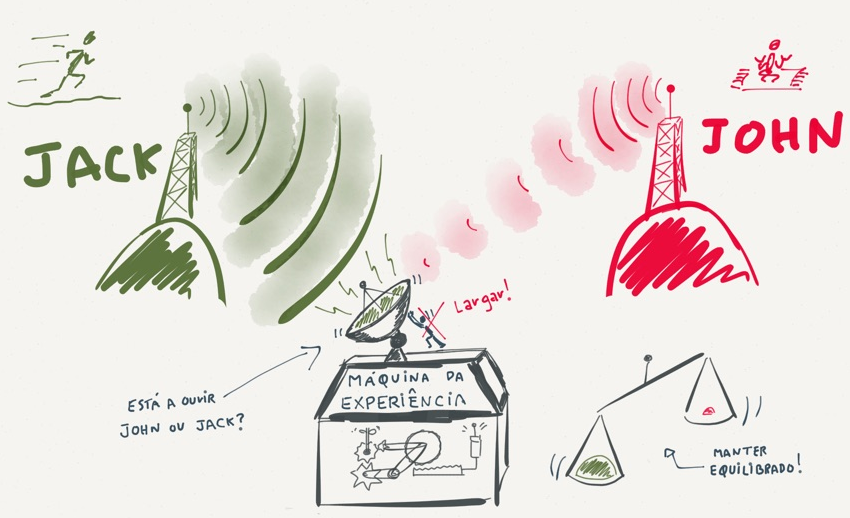 Porque JACK é responsável por muito do que conseguimos construir no mundo, é fácil cair na armadilha de acreditar que merece toda a nossa atenção. Então forçamos artificalmente o radar nessa direção, porque é a maneira de fazer acontecer mais coisas e mais depressa, quase ignorando a sabedoria mais tranquila e profunda de JOHN: "Nunca será por atingirmos determinadas circunstâncias exteriores que vamos garantir determinados sentimentos".
E se está a perguntar-se: "Como, então, podemos ouvir JOHN mais assiduamente?", a resposta é simples: o radar equilibra-se automaticamente se o largarmos. A sua posição natural é a de equilíbrio. Sabe que está a largá-lo quando deixa que se abra vazio mental. Quando se permite prolongar aquelas pausas em que o diálogo interno sossega, sem as querer preencher de imediato. Sem saltar ativamente para o zumbido JACK de fazer, mexer, executar, alterar. Tolere o desconforto de sentir essa fonte inesgotável de silêncio interno que quer surgir, sozinha. Repare que aí tudo se vê com mais clareza.
Note que não nos queremos livrar de JACK (seria impossível). Ele é útil e valioso. Apenas sabe muito pouco das profundezas da nossa experiência existencial.
"Ausência de pensamento é muitas vezes presença de espírito."
Dalai Lama
---
JACK & JOHN
In a previous article, I suggested that is more efficient to let our mental states naturally flow, than trying to control the external world hoping to ensure what we want to feel.
"How do we put that into practice?" is a tempting question, but it sends us to an identical trap: doing something to control the "no-control". Truly, accessing a better emotional fluidity doesn't exactly come from practice. It's more of a natural consequence of getting some aspects of human experience in perspective.
Imagine this two characters living in your mind.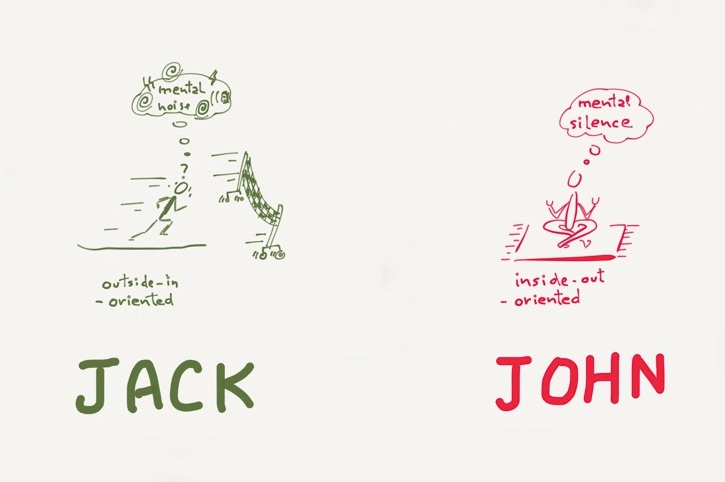 JACK: extremely active, controlling, an intense intern dialogue, in permanent effort to achieve goals after goals, in promise of a perfect future. Capable of remarkable planning and concretization skills, he struggles for external finish lines, never quite reaching the "supposed" result.
JOHN: he's a quiet and calm guy, a man of acceptance and good. His internal peace depends little on the external world. He lives in permanent availability to enjoy and to tune in with what surrounds him. Each moment is intense.
Trying to illustrate JACK's world, I got this: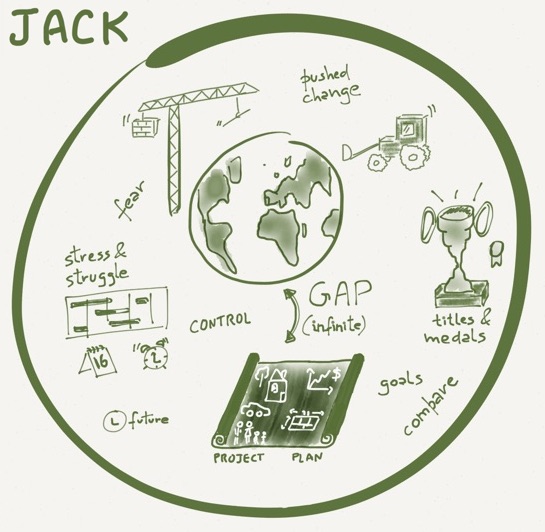 Lots of planning, lots of forecast, lots of construction and world changing, trying to comply with a particular project plan. It's a world full of comparison and evaluation "am I enough?". The gap he tries to overcome is, however, infinite. JACK follows instructions he built throughout his life, and since early, about what's "supposed" to be. In youth the game was to nail what one was supposed to wear, say, drink, smoke, then later became the graduation, job or house+car+family formula that one is "supposed" to have. JACK totally exists to well-intentioned promises that his parents, teachers, friends, movies, television advertising "sold" him: IF X CIRCUNSTANCE, SO Y FEELING. Like a drowning man struggling to survive, we doesn't look at means to stay above water. In the middle of his certainty of knowing what goals to achieve in order to have a happy existence, by arms if necessary, he doesn't acknowledge a fundamental blindness: JACK doesn't know us in the inside!
About JOHN's world, the thing is easier: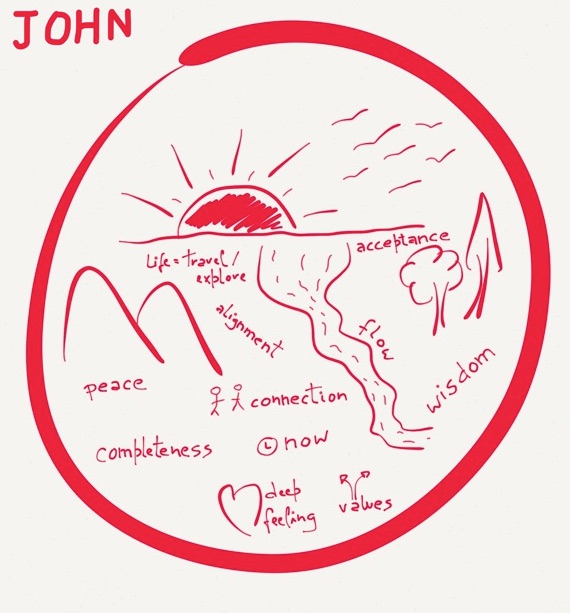 To JOHN, life's a journey of discovery and exploration, essentially peaceful, although with some moments of pain. JOHN knows us intrinsically, valuing the alignment with the most fundamental values. This gives him an incredibly accurate wisdom. However, being a man of great acceptance, JOHN rarely outweighs himself discussing with JACK, which always wins, even by violence or pure saturation: "Ok, JACK, as you wish…"
In the last picture, I try to represent the origin of our experience: a radar divided between the "vibrations" of JACK and JOHN's worlds.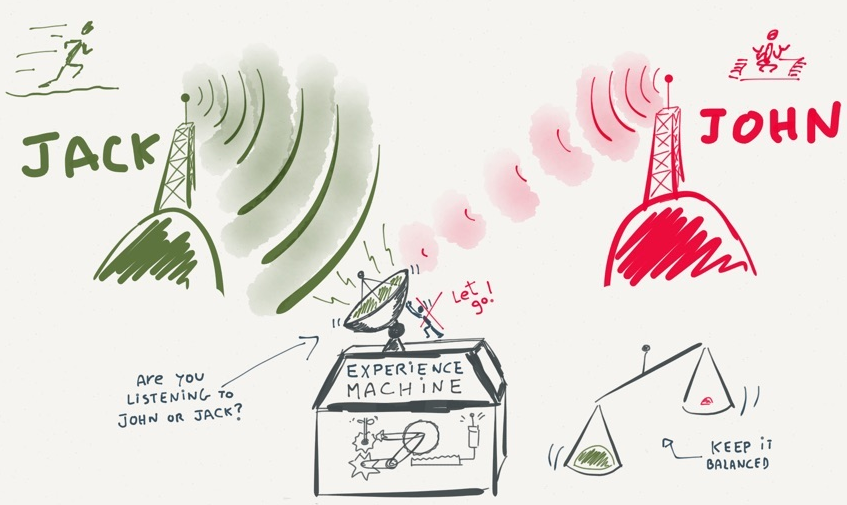 Because JACK is responsible for much of what we built in the world, it's easy to fall into the trap of believing that he deserves all our attention. So we artificially force the radar in that direction, because it's the way of making more things happen and faster, almost ignoring the more quiet and profound wisdom of JOHN: it will never be by achieving certain external circumstances that we are going to ensure certain feelings.
And if you're asking yourself: "How can we hear JOHN more often?", the answer is simple: the radar balances automatically if we drop it. It's natural position is balance. You know you're dropping it when you allow for a mental emptiness takes place. When you allow yourself to extend the pauses when the internal dialogue settles, without wanting to fill them immediately. Without actively jumping to JACK's noise of doing and moving and executing and changing the world. Tolerate the discomfort, as it's unusual, of feeling that inexhaustible source of internal silence that wants to arise, alone. Note that's where everything is seen with more clarity.
Consider that: we don't want to get rid of JACK (it would be impossible). He's useful and valuable. He only knows very little of the profoundness of our existential experience.
"The absence of thought is most of the time presence of spirit"
Dalai Lama