Amazonia, BRASIL
---
"O que devo usar para me organizar?" - é uma das perguntas que mais me fazem. Em boa verdade, a resposta completa a essa questão tomou cerca de um terço do livro que estou atualmente a terminar sobre Produtividade Pessoal. Ainda assim, noto com frequência que muitas das dúvidas de organização se simplificam com uma distinção central: AÇÃO vs INFORMAÇÃO. De facto, estabelecer esta fronteira pode ser suficiente para revolucionar um sistema de organização pessoal.
Repare no circuito habitual de um qualquer input, por exemplo um novo e-mail, ou uma multa das finanças que lhe chegou pelo correio: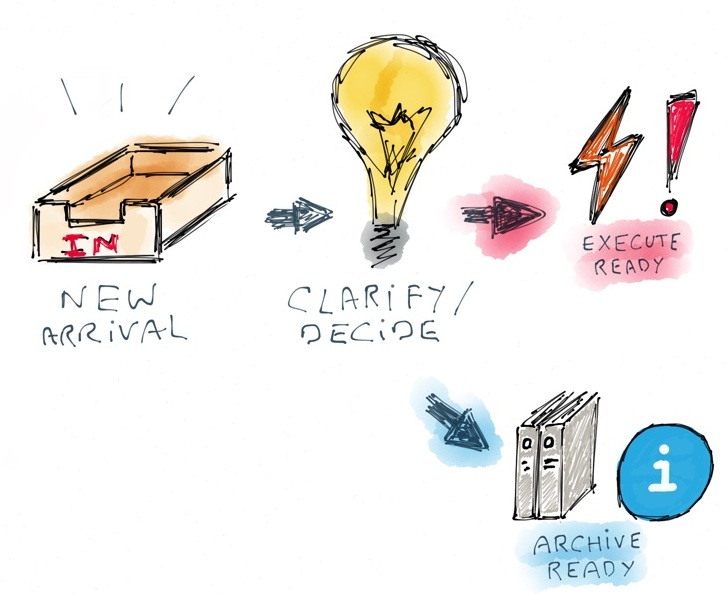 Primeiro, a novidade aterra algures num dado sítio à sua espera (inbox, caixa do correio). De seguida, toma contacto com ela, clarifica o que é, e aprecia o que há para fazer sobre o caso. Desse exercício de reflexão, duas alternativas possíveis:
1. é para fazer alguma coisa - o quê exatamente? onde listo essa ação para não me esquecer?
ou
2. isto é apenas informação potencialmente útil, mas não há nada a fazer - onde guardar?
Em todos os elementos de qualquer sistema podemos aplicar a mesma pergunta-chave: há algo para fazer, ou é informação para guardar? E esta é justamente a dicotomia que recomendo, para a triagem inicial. Faz toda a diferença!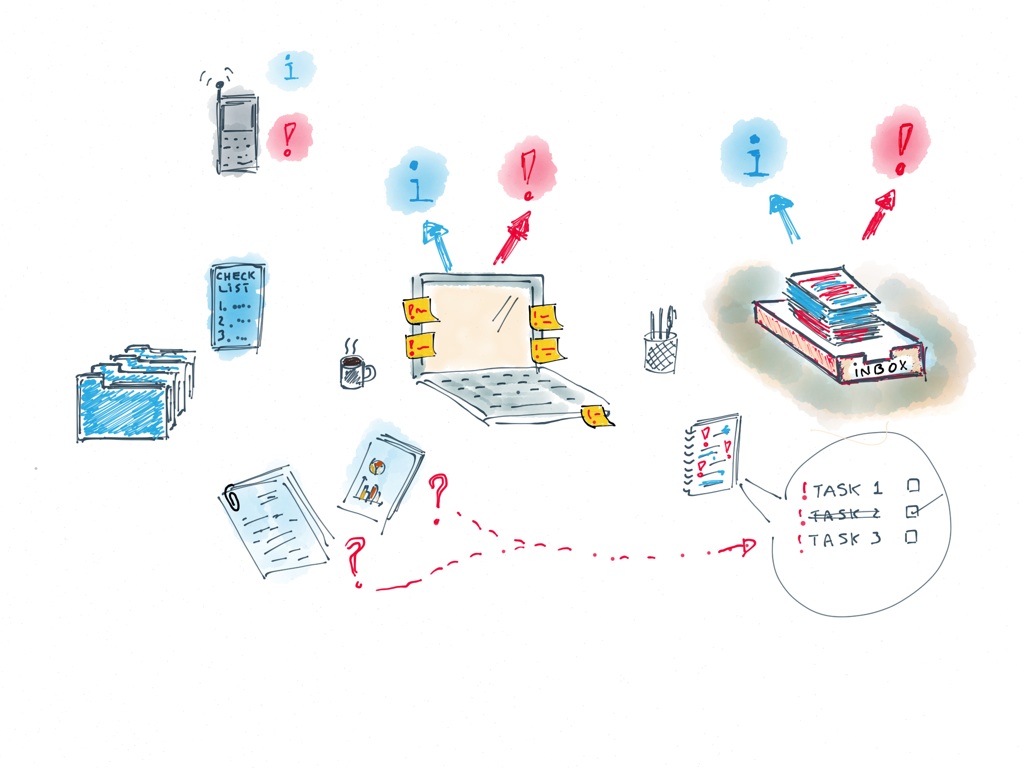 Um exemplo direto disto é, naturalmente, o email. A maioria das aplicações de e-mail têm de base uma qualquer tipo de indicador (ex. FLAG ou STAR), que permite assinalar mensagens e facilitar a implementação do conceito. Mas mesmo sem isso, pode simplesmente criar duas pastas principais: "TRATAR" e "ARQUIVO". A INBOX deve esvaziar-se entre elas.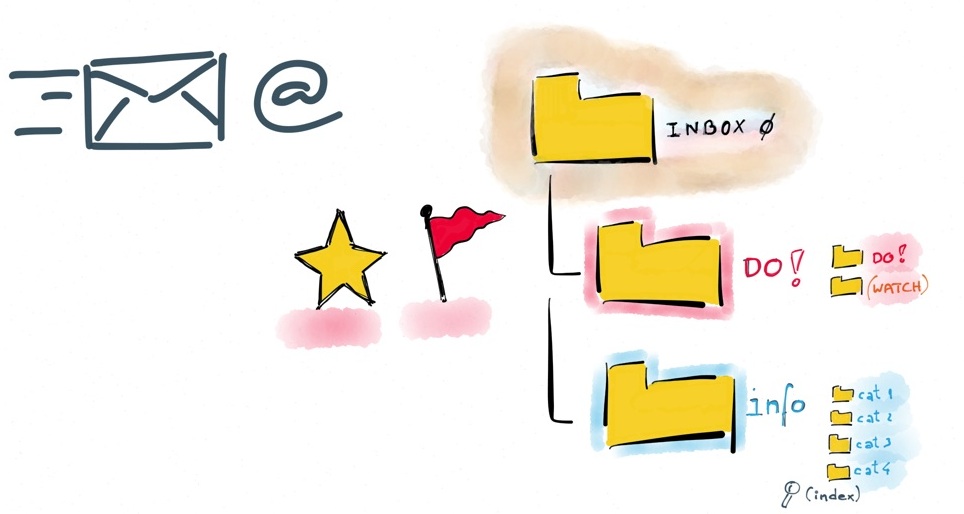 Um outro exemplo comum é o bloco de notas, caso use um. Contém notas de reuniões, apontamentos, às vezes listas de tarefas que vamos recopiando apanhando os itens "tresmalhados". Recomendo que, durante a escrita, facilite a triagem assinalando logo os "ACTION POINTS", e os vá arrebanhando com alguma frequência numa lista atualizada, dando as páginas como "processadas" (isto é, tudo o que lá estava foi listado noutro sítio qualquer).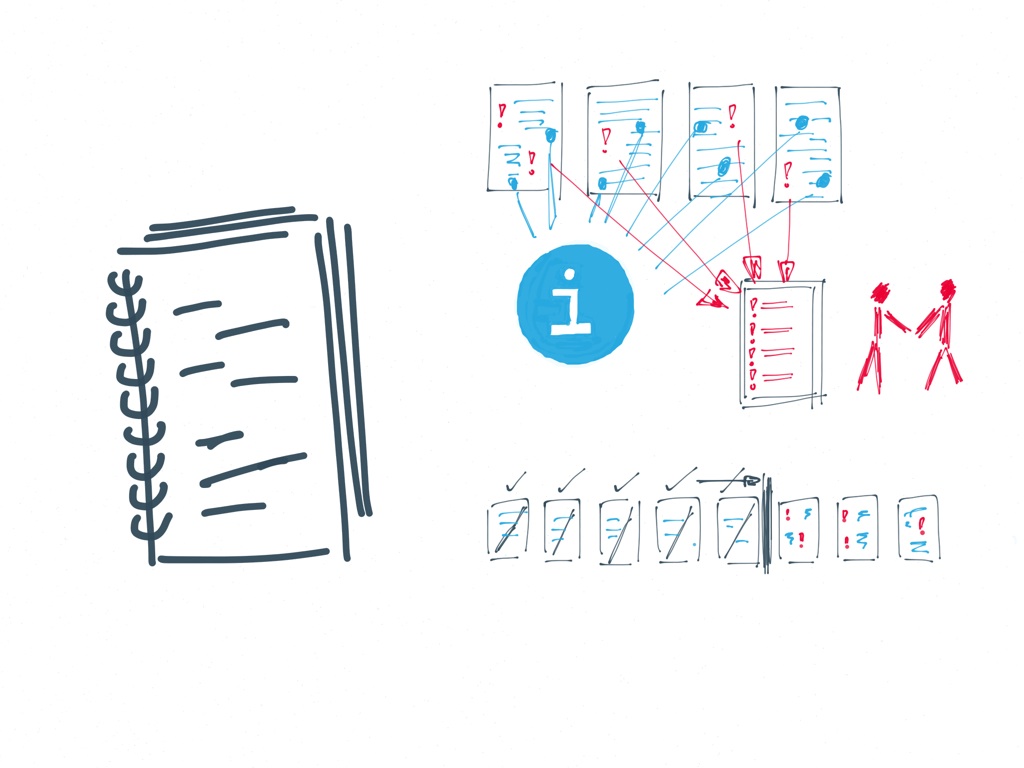 Evite a redundância de ter dois items diferentes a referir o mesmo assunto. No e-mail isto é particularmente importante, porque terá várias mensagens sobre um mesmo assunto. Mais difícil de resolver, é quando tem vários assuntos na mesma mensagem - a evitar.
Esta triagem simples - AÇÃO vs INFORMAÇÃO -, garantindo apenas um item por assunto, vai reduzir significativamente o número de items com que vai lidar, o que é muito importante quando falamos de sistemas de organização. Mas, claro, não resolve tudo - vai faltar agrupar os pendentes por área de atuação, e ter repositórios que permitam guardar com fiabilidade coisas que não quero já, hoje, a atrapalhar-me no dia-a-dia. Mas sobre isso falarei mais adiante. Por agora, sugiro que experimente esta dicotomia, e que ao mesmo tempo vá cultivando regularmente perguntas do tipo:
"- Qual é a próxima ação sobre isto?"
"- Quem ficou de fazer o quê?"
"- Porque lhe estou a enviar isto, e o que quero de si?"
"- Antes de terminarmos a reunião, acho melhor listarmos exatamente quem vai fazer o quê..."
PERSONAL ORGANIZATION PRINCIPLES
"What should I do to organize myself?" - Is one of the questions that people more often ask me. As a matter of fact, the complete answer to this question took about a third of the book I am currently finishing on Personal Productivity. Still, I often notice that many of the doubts about organization get simplified by a central distinction: ACTION vs INFORMATION. In fact, establishing this boundary can be enough to revolutionize a personal organization system.
Notice the usual circuit of any input, for instance a new email, or a legal fine which arrived by mail: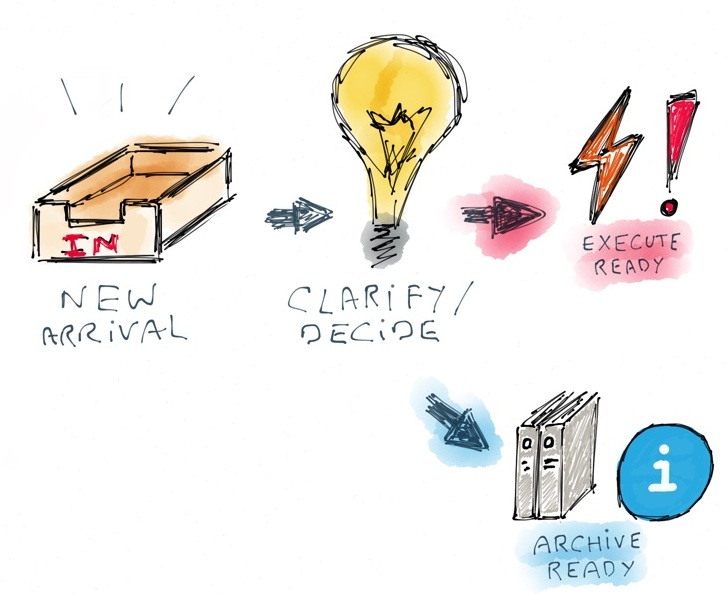 First, the novelty lands somewhere, awaiting you (inbox, mailbox). Then you come in contact with it, you clarify what it is and analyze what's there to do. From this reflection exercise, two possible alternatives:
1. Is there something for me to do about this - what exactly? Where do I list this action so I won't forget about it?
or
2. this is only potentially useful information, but there is nothing to do about it - where to store?
In all the elements of any system we can apply the same key question: is there something to do, or is it information to store? And this is precisely the dichotomy that I recommend, for initial screening. It makes all the difference!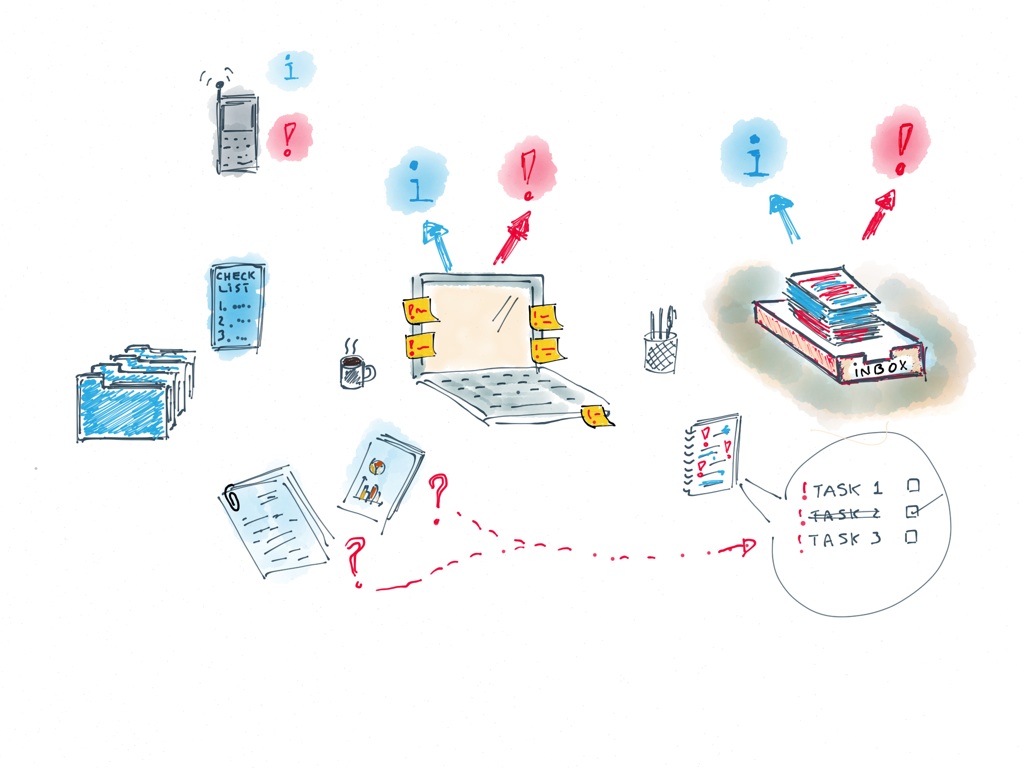 A direct example of this is, of course, email. Most email applications have as a standard some kind of indicator (eg. FLAG or STAR), which allows to assign messages and facilitate implementation of the concept. But even without that, you can simply create two main folders: "TO DO" and "ARCHIVE". The INBOX should be emptied between them.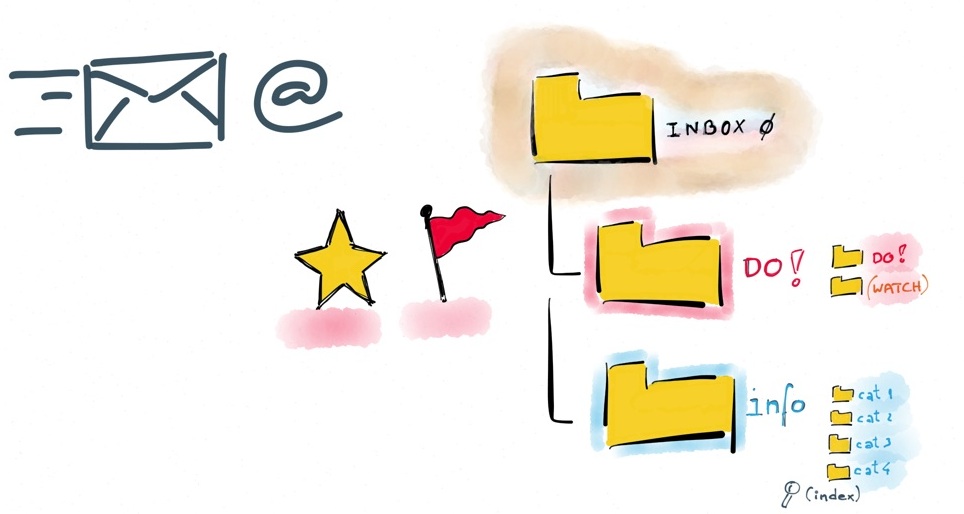 Another common example is the notepad, if you use one. Contains notes of meetings, appointments, sometimes lists that we copy again and again catching the "lost" items. I recommend that, while writing, you make the screening easier by immediately ticking the "ACTION POINTS", and keep collecting them, somewhat frequently, in an upload list, considering the pages as "processed" (ie, all that was there was listed somewhere else).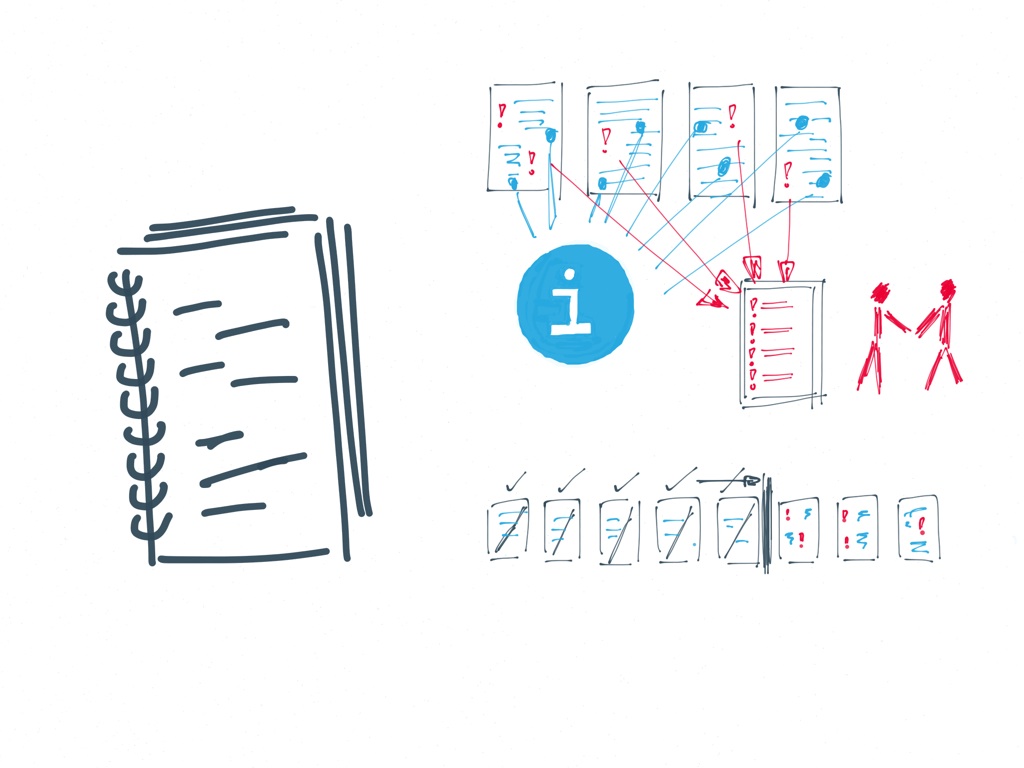 Avoid the redundancy of having two different items referring to the same subject. In the email this is particularly important, because you will have several messages on the same subject. More difficult to solve is when you have several subjects in the same message - avoid that.
This simple screening – ACTION vs INFORMATION - ensuring only one item per subject, will significantly reduce the number of items to deal with, which is very important when we talk about organizational systems. But, of course, does not solve everything - it will lack grouping pending items by area of work, having repositories that allow for reliably keeping items that I do not want right now, today, disturbing me all the time. But I will talk about that later. For now, I suggest you try this dichotomy, and at the same time, regularly cultivate questions like:
"- What's the next action on this?"
"- Who was supposed to do what?"
"- Why I am sending you this, and what do I want from you?"
"- Before we end the meeting, we'd better start listing exactly who will do what ..."